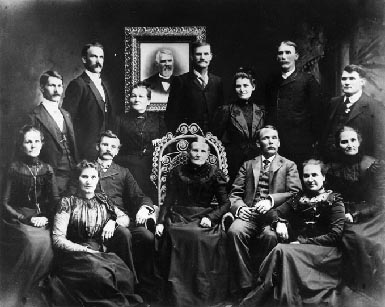 Portrait of Henry J. Meek
with wife Catherine sitting in the chair
William Albert is behind his mother
Moving to the viewer's right is Hattie
David Nelson is to very end on right, no mustache
Isaiah "Ed" Meek is setting at his Mother's left,
in light color suit
103. Henry J. Meek was born 17 Nov 1821 in Belmont Co., OH. He died 28 May 1891. He was reported in the 1850-1880 censuses of Richland TWP, Belmont Co., OH.
Caution: Henry may have been a son of George born 1794 the brother of Henry born 1796.
He married Catherine Lucas (daughter of David A. Lucas and Sarah Pinkley) on 15 Apr 1847 in Belmont Co., OH. Catherine Lucas was born on 27 Jan 1828 in Belmont Co., OH. She died on 29 Nov 1905 in Belmont Co., OH. Henry J. Meek and Catherine Lucas had the following children:

Margaret's babptismal record- State of Ohio, Belmont County,SS:
      William A. Meek,resident of Mead Township, Belmont County,Ohio,being first duly sworn,
 deposes and says as follows:
 
     That he is eighty-three (83) years of age and is the father of Margaret Catherine
 Morrell, formerly Margaret Catherine Meek. That said Margaret Catherine Morrell was born
 on April 15, 1891, in BACA COUNTY,COLORADO. That she was  baptized in the Old Mt. Zion
 Methodist Episcopal Church in Putney Township,Belmont County, Ohio, in the month of June,
 1899 and that William Peregoy was the Minister. That the records of said Mt. Zion Methodist
 Episcopal Church prior to 1905 were destroyed by reason of fire and the original baptismal
 record is not available.     signed William A. Meek(signature)
       Sworn to before me and authorized in my presence this 16th day of June, 1948.
 signed K. G. Cooper (Notary Public)

Note: David Nelson Meek
The History of the State of Oklahoma, by Luther B. Hill, A.B., The Lewis Publishing Company, 1908.
At the age of twenty-seven years he made his way westward to Nebraska and worked on the college farm at Lincoln. He afterward removed to Portland, Oregon, and subsequently went by water to San Francisco, California. While in the Golden state he was employed upon a ranch in Napa county, California, for eighteen months, after which he returned eastward to Kansas City, Missouri. His next removal took him to Harper county, Kansas, where he remained upon a ranch for a year and half. He afterward spent two years in Colorado and was engaged in freighting there and also took up a tree claim in the southeastern part of the state. He freighted from Lamar, Colorado, and afterward from Trinidad to the mountains, while subsequently he went to Golden, Colorado, and as a freighter hauled lumber to the mining camp. He is familiar with all of the experiences of frontier life on the plains and in the mountain districts of the west and has met many of the hardships and privations incident to such experiences. In 1889 he came to Oklahoma and on the opening of the territory filed a claim in Payne county. Later, however, he came to Pottawatomie county with the Sac and Fox Indians, freighting under Isaac McCoy.
Jennie was a stepdaughter of Isaac McCoy. Her father was a member of the Ottawa tribe and her mother of the Sacs and Foxes. On the apportionment of government territory Mrs. Meek received about one hundred and fifty-seven acres of land, while Mr. Meek purchased one hundred and five acres. Their holdings, therefore, comprise two hundred and sixty-two acres, constituting one of the best farms in Pottawatomie county, known as the Fairview Farm.
Disclaimer: This genealogy was prepared by the author using undocumented and/or unverified sources. Some facts presented here MAY NOT be correct. Never accept as factual any information you find in a library, the Internet or from other genealogist unless it is supported by documentation. Documentation DOES NOT include the undocumented genealogies of other people including those on this web site.