23. Nathan Meek was born about 1829 in Ohio according to census records. He died Jan 1900 in Tuscarawas Co., OH according to his obituary. He was listed in the 1850 census of Wayne TWP, Monroe Co., OH age 21. This census indicates that he married Martha, age 21, within the year and no children were listed. He was listed in the 1880 census of Perry TWP, Tuscarawas Co., OH age 51.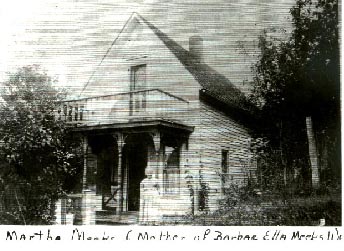 Martha Catlin Meek
Nathan and his brother Thomas are living next to his father in the 1850 census. In the 1870 census Nathan's children are living with his father.
He married Martha Jane Catlett in 1850. She was born on 12 Oct 1830 in Virginia according to census records and court documents which contradict her obituary. She died on 22 Mar 1922 in Sullivan Co., MO according to her death certificate. She was buried in Oakwood Cemetery, Sullivan County.
She is listed in the 1880 census of Perry Co., OH with her three youngest children. She was listed as being divorced. She moved to Milan, Sullivan Co., MO and is listed in the 1900 census as the head of household. The census indicated that she was born Oct 1830 in Virginia. Also living with her was Nellie Gates, daughter of Barbara Ella Gates. She was listed in the 1910-1920 censuses of Polk TWP, Sullivan Co., MO as the head of household. In 1920 she was listhed with her son Harrison age 71 OH. This is likely Hannums. His wife was living with some of her children in Oklahoma.
Nathan Meeks and Martha Jane Catlett had the following children:
This is the family of Jeff Kreger.
Disclaimer: This genealogy was prepared by the author using undocumented and/or unverified sources. Some facts presented here MAY NOT be correct. Never accept as factual any information you find in a library, the Internet or from other genealogist unless it is supported by documentation. Documentation DOES NOT include the undocumented genealogies of other people including those on this web site.
Notes:
Obituary The Standard, Milan, Mo May 30, 1922, Pg.5 Col. 5
MEEKS: Martha Jane Meeks was born in old Virginia in the month of Oct. 1826, died March 22, 1922, being 94 years old. In early life she gave her life to Christ uniting with the Christian church. Mrs. Meeks was a mother of 8 children, two of the children and the husband preceded her to the great beyond. Six children and many relatives are left to mourn her departure. Funeral services were held in the Christian church conducted by her pastor, Martin L. Holloway.

   
Census: 1880 Moxahala, Perry, OH
              Relation    Sex  Marr Race Age  Birthplace
Martha Meeks    Self       F    D    W    45   VA
     Occ: Laundress Fa: VA    Mo: VA
Greshum Meeks   Son        M    S    W    17   OH
     Occ: At Home   Fa: OH    Mo: VA
Barbra E. Meeks Dau        F    S    W    14   OH
     Occ: At Home   Fa: OH    Mo: VA
Manda M. Meeks  Dau        F    S    W    12   OH
     Occ: Attending School    Fa: OH    Mo: VA


Could this be Nathan Jr. remarried after divorcing Martha Jane?
Census:  1880 Perry TWP, Tuscarawas, OH
              Relation  Sex  Marr Race Age  Birthplace
Nathan MEEK    Self      M    M    W    51   OH
     Occ: Laborer   Fa: PA    Mo: PA
Malissa MEEK   Wife      F    M    W    38   OH
     Occ: Keeping House  Fa: NY    Mo: NY
Benjamin MEEK  Son       M    S    W    8    OH
               Fa: OH    Mo: OH
Lafyette MEEK  Son       M    S    W    6    OH
               Fa: OH    Mo: OH
Dora MEEK      Dau       F    S    W    4    OH
               Fa: OH    Mo: OH
Flora MEEK     Dau       F    S    W    4    OH
               Fa: OH    Mo: OH
Evalina MEEK   Dau       F    S    W    1    OH
               Fa: OH    Mo: OH

Gus Meeks Murder
Gus, his wife and daughters Hattie and Marie were murdered by George and William Taylor on May 10, 1894. Nellie was thought to be dead and was thrown in a straw stack with the rest of the family on the farm of George Taylor and the straw was set on fire. she later regained consciousness and went to a near by farm for help.
Gus had previously been involved in the criminal activity of the Taylor brothers and was convicted and sent to prison. The governor pardoned him in exchange for his testimony against the two brothers. However, the murders convinced him to leave town for one thousand dollors, a team and wagon. However, Gus was double-crossed and the family murdered.
The prosecution of the Taylor brothers involved two trials and an appeal. The first trial ended with charges of bribery and perjury. They were convicted at the second trial. Following the appeal the executions were set for April 30, 1896. On April 11th, William and George escaped from jail. William was quickly captured and was hanged on the appointed date. George was never found and his fate is unknown.
Summary by Chris Meek
Newcomerstown Newspaper, dated Wednesday, Feb. 7 1900
Nathan Meek Dead
Everybody in the community has known Nathan Meek, and everybody will regret to learn of the death of this old veteran fisherman. All that remains mortal of this queer character is now resting peacefully in the village cemetery besides the graves of both his ancestry and posterity. Death came on last Saturday afternoon, and funeral services were held on Sunday. He was born here 72 year ago and here he has made his home ever since. During his later years, infirmities incident to old age have made it impossible for him to gain a livelihood by any hard labor, consequently he diverted his attention to something else. For a number of years past he may have been seen in the early morning and late at night welding his way to and from the Tuscarawas River, he spent a greater part of his time in preparing bait and employing schemes of catching the finny tribe. By disposing of the product of his labors from house to house he managed to eke out a merger existence. In this manner he has struggled along with life for a number of year. However small a part he may have played in the town's history, the memory of this old fisherman and his peculiarities will longer long in the minds of many.